On the path to Perfect Health: What is Ayurveda?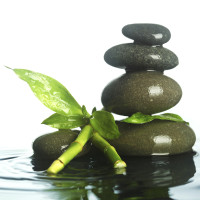 Ayurveda: a 5,000 year-old healing system founded in ancient India. Derived from Sanskrit words "ayus" meaning "life," and "veda" meaning "wisdom."
The "wisdom of life" that is Ayurveda is the foundation of the Perfect Health program and a way of living about which I'm passionate. Viewing our health as a state of "vibrant balance" instead of separate, disparate pieces has always resonated with me.  Teaching movement (Pilates) as a mind/body/spirit experience is a big piece of my own healthy lifestyle.
The connection of breath, the practice of being present with our bodies— this kind of awareness can allow for a truly integrative movement experience.  The beautiful wisdom of Ayurveda speaks to me in that same way, an opportunity to live with more balance from all levels of our being.
One of the primary reasons I sought the Chopra Certified Instructor path was to expand my tool box and continue my own healing journey. Another is that I want to share the healing benefits of Ayurveda with you. The process of integrating techniques and tools (like meditation) nutrition and movement into your daily life is transformative, as I can personally attest. I practice much of the Perfect Health program each day, from meditation, which has brought and continues to bring pain relief, mental calm and clarity, to successfully choosing the foods that will nurture my body and decrease inflammation.
I invite you to join me in 2016 on the path to Perfect Health. I'll be teaching the Perfect Health Program, created by Deepak Chopra, MD and David Simon, MD, at Body Fundamentals Studio (Tucson) on 5 consecutive Sundays beginning April 3, 2016  There will also be two multi-day versions of the  program in June and September that I'm designing as mini-retreats with morning movement (Pilates and Yoga), healthy snacks, lunches and more!
Ayurveda offers a proven guide for a life filled with vitality, love, happiness and purpose. Balance of mind and body makes it easier to choose the best for ourselves. I hope you'll join me this year!
In "Perfect Health,"
Geneviève