"Ma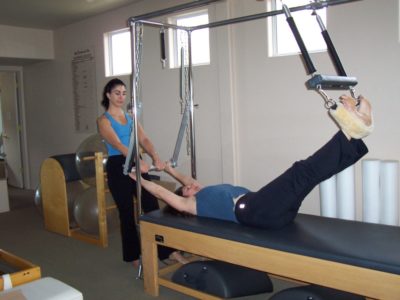 ny people do not realize that Pilates is an excellent system of body work  that can be applied specifically for rehabilitation. I first came to Body Fundamentals in 2004 because my body was in pain and I thought Geneviève could help me. It is difficult for me to trust my body to someone for its care and nurturing. Body Fundamentals was an instant fit. Geneviève has a tremendous gift in her ability to assess the needs of the body, develop a method and process of rehabilitation, nurture the body with a realistic timeline, and above all, treat the body with the utmost respect and forgiveness, all while putting the mind at ease and developing a trust with the client. The result of her practice has meant that I am now living with minimal pain that continues to lessen as I develop lower abdominal strength and a redirection of my gait and foot strength. The overall shape of my body is toned and a body I am very happy to see reflected back at me when I look in the mirror."
— Kathryn Kellner,  Founder - The Human Communication Studio
"I have taken classes from Genevieve as well as hired her for workshops at my studio. She is a great resource in overall knowledge of Pilates movement and exercises and is attentive to clients needs. Would highly recommend working with Genevieve for anyone looking for a knowledgable and high energy work-out."
- Cathryn Blodgett, Pilates Teacher, Studio Owner
"Amazing results from the caring, meticulous staff at Body Fundamentals here in Tucson. They really pay attention to my progress and monitor my routine according to the strengths and weaknesses of my body. I feel full of hope as I feel my body completely restructuring in a powerful way. Wish I'd started with Body Fundamentals 20 years ago!"
— Catherine Baskett Astrology
"Having dabbled in Pilates for several years, it was only under Geneviève's watchful eyes and precise instruction that my lower spine lordosis dramatically corrected to where it is almost normal. What's amazing is that I have had this condition for my whole life. Thank you Geneviève and Body Fundamentals."
— Lucy Peerenboom
"I need to share some recent insights about my journey with Pilates. I have been practicing Pilates for almost 9 years. During this time I became aware of the wonderful physical benefits: Core strength, Increased stamina, Better posture, and flexibility. Body realignment  Etc. etc.
I had a total hip replacement a year and both Doctor and physical therapists were amazed at my quick recovery. I know this was due to my Pilates. I was back at Body Fundamentals within a month after surgery.
On a more subtle note, in the last year, I have noticed the benefits of Pilates spill over to my piano playing and painting. There is a lot more looseness and flexibility in my arms and fingers. I attribute this to core strength and my ability to remove tension and stiffness from my neck and shoulder areas.... a fluidity I never had before.  This is exactly what I try to do with my Pilates exercises. Transfer the tension and stress out of my neck and shoulders into my core.
It really is remarkable and (I) need to share this information.
Indeed, my journey with Pilates has been transformative in many ways."
- Kenneth Singmaster, Artist and Landscape Painter
"Almost four years ago, I was diagnosed with Parkinson's Disease (P.D.) which "is an idiopathic, slowly progressive, degenerative central nervous system disorder characterized by slow and decreased movement, muscular rigidity, resting tremor, and postural instability." (1) My doctor reminded me that "still water freezes faster than running water" and advised that I keep active and as mobile as possible.
Based upon her 10 year experience with Pilates, my wife suggested a program of Pilates, full body massage and a continuation of my golfing. As it turns out, I do each of these activities twice per week and have been doing so since my diagnosis with P.D. Of course my physician also prescribed a drug regimen which I take faithfully, as well as trying to avoid or minimize stress in daily living. This combined program seems to be producing good results. I generally feel good and remain very active.
I was fortunate to find Body Fundamentals, Inc. and its professional staff to work with me. They have designed a personalized program of exercise (Pilates) and hot stone body massage. The Creative Director and Founder is Geneviève Nedder and my therapist is Richard Hofstad. I believe these activities are an important part of my overall program. This isn't surprising when you compare my disease symptoms with the Pilates Principles (including: balanced muscle development, control, concentration, centering and whole body movement) -- an almost perfect overlay."
— Jerry Jackson, Retired Pharmaceutical Executive
(1) Merck Manual, pg. 1882
"I have had the wonderful opportunity to work with Geneviève in many capacities over the years, and I am continually impressed with her ability, sensitivity and creativity. She exudes confidence and intelligence that make you feel at once challenged and supported. It is this combination of intellectual, physical and spiritual gifts that sets Geneviève apart as a truly talented teacher, coach, director and human being."
— A. Lee Massaro, Director, Acting Teacher, National Theater Conservatory; Denver Center for the Performing Arts
"Geneviève is a consummate professional. She is supportive, encouraging and sensitive to the needs of each student, yet she will always challenge your body for the best it can be at that moment. She has an exceptional eye for detail, coupled with an ability to correct errors in a way that consistently builds body awareness. The result is that the body becomes centered, strong and able to express a variety of movements without pain or injury."
— Diana Bailey, NMT, Owner/Founder, Essential Motion Inc.
"Pilates with Geneviève at Body Fundamentals has not only strengthened and toned my body, it has changed my entire approach to fitness and exercise. I know now that I can have the lean, strong body I desire without hurting myself or spending hours in a crowded gym. Geneviève's custom workouts and mat classes provide all the strength training I need and have greatly improved my posture and breathing. She is a kind, creative instructor who really listens to her student's needs and desires. Because of her awareness and connection with her clients, results happen almost immediately. Thanks to Geneviève, Pilates is a workout I will never tire of."
— Paula Taylor,  Cheif Development Officer Arizona Theatre Company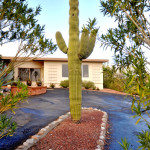 "Anyone who has experienced the Pilates program recognizes the genius of Joseph Pilates in developing a system of organized programs that balance and strengthen your body regardless of age or experience with the program.
I began Pilates in the Chicago area, and when I moved to Tucson, I remained keenly interested in finding the best program. Though I have taken classes at other larger studios and exercise facilities, I am thoroughly impressed with the more unique and carefully crafted program at Body Fundamentals.
Geneviève Nedder clearly customizes and organizes individualized programs that work with your own physique and body to address the concerns and areas that most critically impact one's own body requirements. The ability to schedule and work at a pace that you are comfortable with ensures maximum success.
Her patience, her intelligence and her commitment to excellence drive you to higher levels of performance week by week. The improvements are almost instantly noticeable and provide great motivation to come back week after week. I think Body Fundamentals offers the best Pilates program in Tucson."
— Cristina S. Lowe
"I was in a bad car accident as a child and was told I would be in a wheel chair by the time I was 45 - this was not an option for me. I tried many exercise programs in the past but none gave me the health benefits that Pilates has. I found that the other programs put too much stress on my body and joints. The pain at times during and after the exercise was unbearable so I gave up and felt like a total failure. I've been doing Pilates with Geneviève since October 1999. My joints are loosening up so I can move my shoulder now. I am no longer in constant pain. There were days when I felt twice my age, now I feel younger and full of life. I would truly recommend it to everyone for rehabilitation after physical or mental trauma or to just plain feel good."
— Mary E. Williams, Mother, Building Manager
"I have had the pleasure of working with Geneviève both in her capacity as director and movement designer/movement coach. In each instance the experience was a delight. She combines deep and lively creativity with patience, perseverance and insight. She gives generously of her many years of training, exploration and experience as a performer, dancer and movement teacher. She also imparts discipline and a complete commitment to the work of the ensemble, while never losing touch with the spiritual nature of the art. Whether she is leading the project or guiding the movement aspect of a play, to work with Geneviève is to assure growth, fun and a superb outcome for all the artists involved."
— Mary Guzzy, Actor, Director, Writer, Professor
Geneviève is not only an exceptional teacher but an expert in her field and "I am grateful to have participated in the "Learn to Manifest through Meditation" workshop this month. Geneviève introduced the group to simple tools and daily practices for intention setting and I learned how to practice moving past my intention to help manifest my deepest desires. The guided mantra meditation helped quiet my mind and I am confident that whatever obstacles I face in my daily life, I now have the tools to manage them with a new kind of knowledge and insight. Even if you are on the fence about meditation, I encourage EVERYONE to try a session with Geneviève at Body Fundamentals Inc. I look forward to my next session and to incorporating what I have learned for a healthier mind,

body

and

soul."
- Janic Gorayeb, Founder of Ripple Effect Leadership, Certified Health Executive