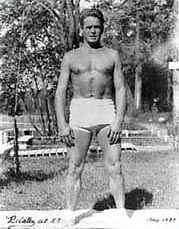 "To achieve the highest accomplishments within the scope of our capabilities in all walks of life, we must constantly strive to acquire strong, healthy bodies and develop our minds to the limit of our ability."
— Joseph Pilates, Return To Life
Dancers, athletes and converted couch potatoes savoring their new selves owe a debt to this man whose conditioning system took 80 years to become an overnight success.
Born in 1880 near Düsseldorf, Germany, he was the proverbial skinny, sickly child. To overcome these ailments he focused on a regimen of body building, gymnastics, diving, skiing and boxing. He studied Eastern and Western forms of exercise and philosophies and was strongly influenced by ancient Grecian and Roman techniques.
The fitness routine he had developed to help his own physical challenges was honed during the time he spent as a nurse in a WWI prison camp in England. To aid the wounded and disabled, Joseph began creating simple resistance and stretching exercises. He created the prototype for his first apparatus, the Universal Reformer, by attaching pulleys and springs to a steel-frame cot.
Joseph moved to New York City in 1926 with his wife and partner, Clara, and founded the Pilates studio. Initially, Pilates gained a large following of athletes rehabilitating from injuries.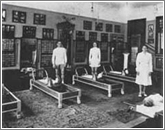 In the 1950s, Pilates opened a studio in the same New York building as dance legends George Balanchine and Martha Graham. The dance community embraced his work and soon he had an ardent following of dancers.